September 15th, 2023
Book Donation
More Dates and Locations may be added!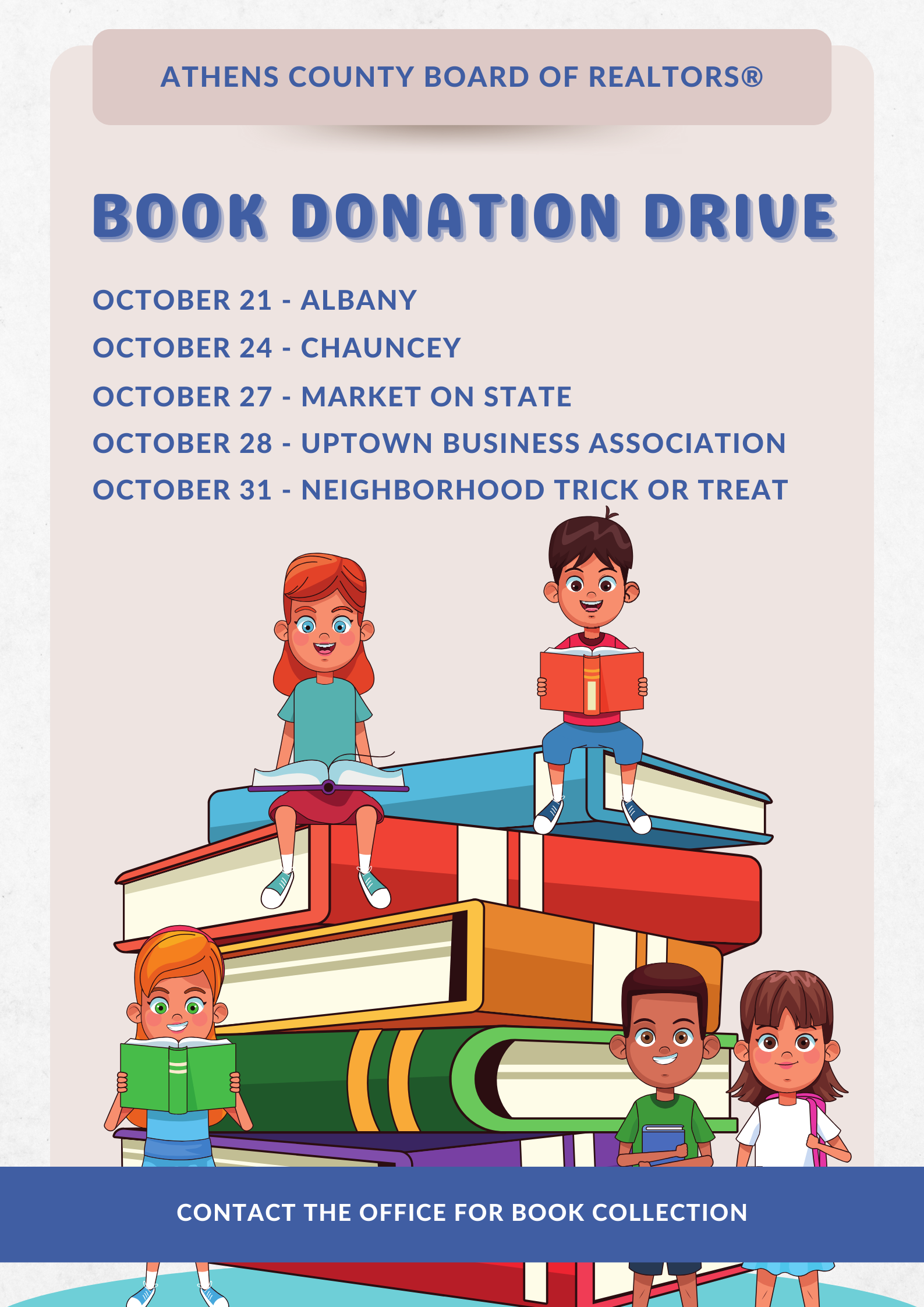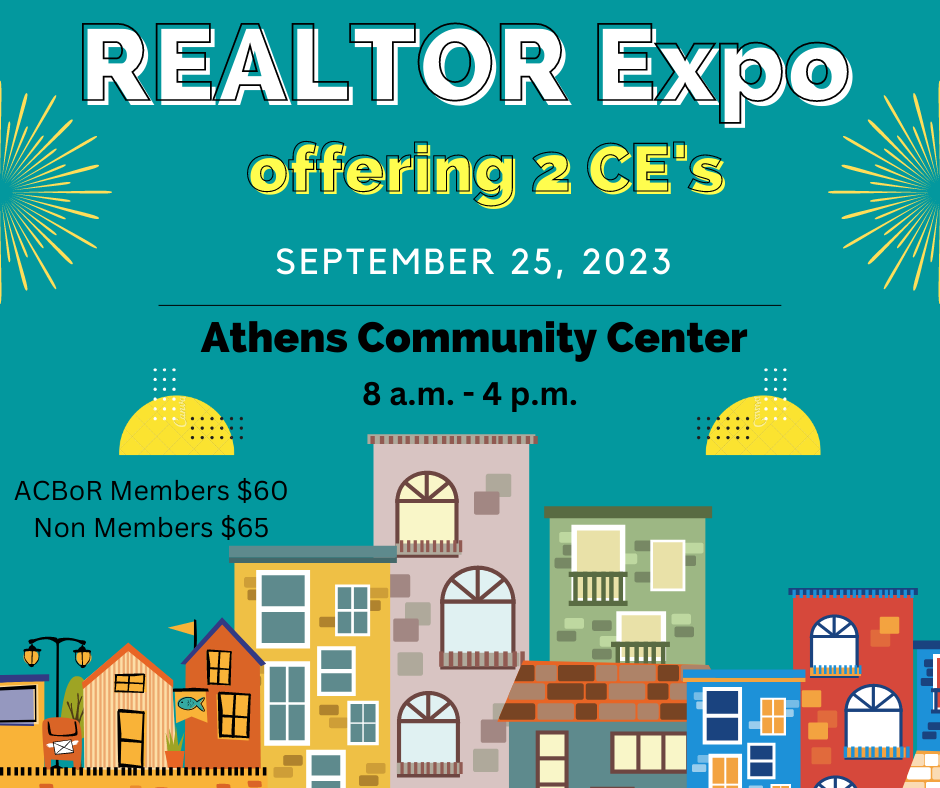 Avoiding Legal Pitfalls
3-Hour Core Law
9:00 am – 12:15 pm
Instructors:
Stephen McCoy, J.D., Ohio REALTORS Vice President of Legal and Regulatory Affairs
Todd Book, J.D., Ohio REALTORS Vice President of Legal and Legislative Affairs
This course includes the latest information on legal issues relevant to today's real estate marketplace. You'll receive an update on the proposed new license law administrative rules, and an overview of common areas for disciplinary action. We'll discuss issues surrounding licensees working together, and hot topics such as the use of surveillance equipment in listings, buyer's photography/videoing, multiple offer issues, and advertising & social media challenges. Additionally, you'll hear about the latest legislative activity and case law impacting your business.
Putting REALTOR® Safety First: Safety Strategies for the Modern REALTOR®
1:30 pm – 3:30 pm
Instructor:
Shannon Crutchfield, Principal Broker, Cincinnati, OH
The goal of this course is to instill safety awareness and habits as second nature so that real estate professionals—as well as their clients and customers—know how to avert or respond to dangerous situations and avoid harm as they practice their profession.
Learning Objectives
Motivate real estate professionals to realize their exposure to risks.
Follow safety best practices when showing property, conducting an open house, working in the office, and driving alone or with clients or customers.
Learn how to quickly assess a potentially dangerous situation and take appropriate action.
Safeguard your own and your clients' personal data, as well as practice prudent use of social media and mobile phone technology.
Encourage all agents and employees to follow safety best practices and company safety policies.
To Register with Credit Card
To Register with a Check
June 23rd, 2023
JULY MEMBERSHIP MEETING
Please consider bringing a donation for
the Athens County Dog Shelter.

Needed Items
Leashes
Medium and Large Collars
Purina Pro Chicken and Rice Dog Food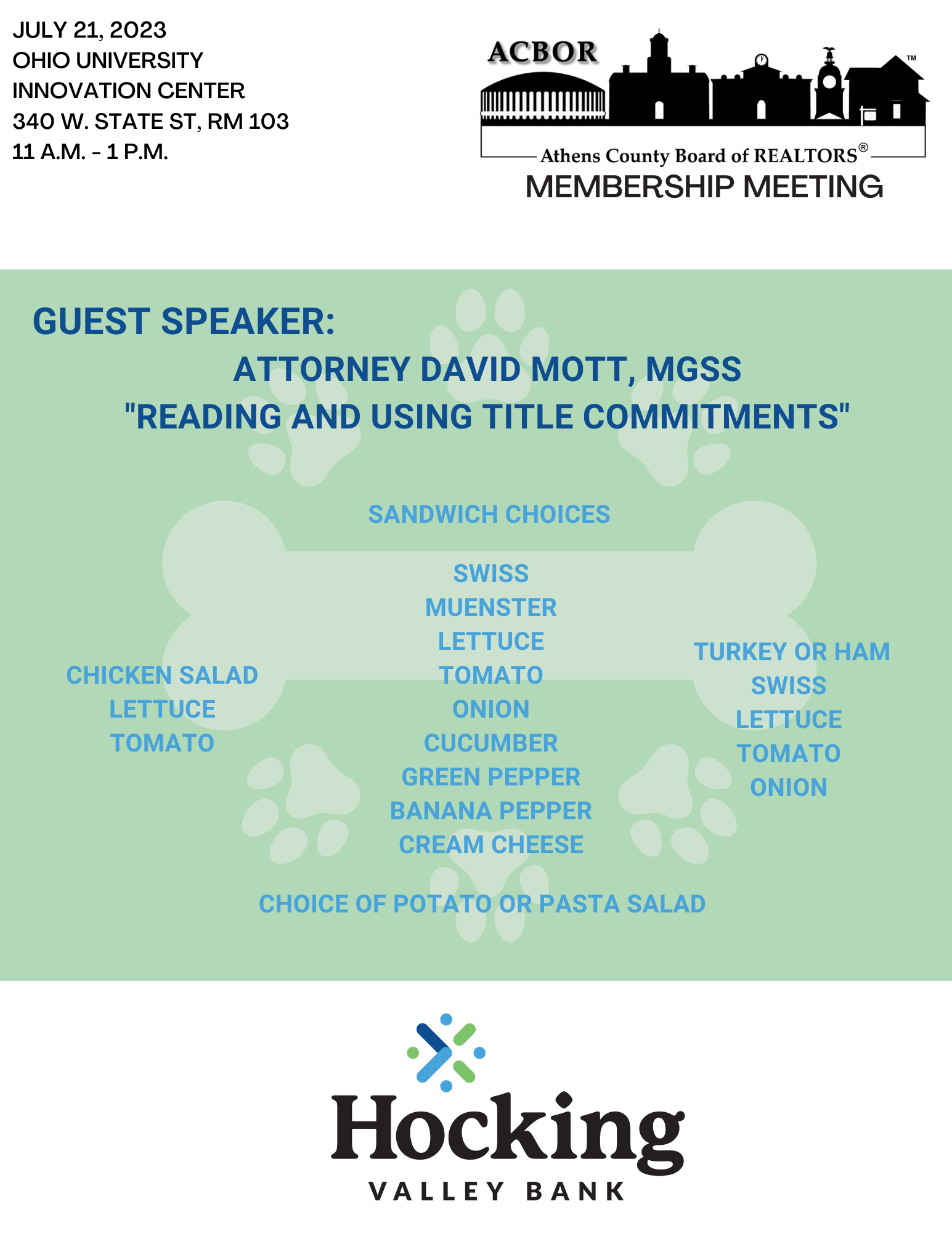 *Affiliates not sponsoring the event are invited to attend for a $15/person fee.
For a meal* R.S.V.P. is REQUIRED by July 17, 2023.
June 1st, 2023
June Training Opportunities
To register - click on the date/time of class choice
FAIR HOUSING FOUNDATIONS
(3 HOURS OF CIVIL RIGHTS CREDIT) – LIVE WEBINAR
Jonathan Duy - Ohio Housing Finance Agency

This course will take a historical view at fair housing and civil rights. The course will also go into the details of current housing, advertising and lending laws.
Case studies, housing statistics, videos and pictures are used to present the information in an interesting format.

________________________________
__________________________________________
OHFA HOMEBUYER PROGRAMS
(1 HOUR OF ELECTIVE CREDIT) – LIVE WEBINAR
Jonathan Duy -
Ohio Housing Finance Agency
This webinar will review the variety of loan options offered by OHFA including down payment assistance, mortgage tax credits and interest rate discounts for homebuyers. Eligibility requirements and product combinations will be discussed to reduce out-of-pocket expenses.
Monday, June 12, 2023 11 AM - 12 PM
Friday, June 16, 2023, 11 AM - 12 PM
________________________________
__________________________________________
Core Law
3 hour CE


Emily Owens, Esq - Northwest Title
Learn the fundamental principles of Ohio Real Estate Law and receive an overview of the required legal forms in Real Estate transactions.
Tuesday, June 13, 2023 1 - 4 PM
May 4th, 2023
MAY TRAINING OPPORTUNITIES
FREE and ONLINE
Understanding the Ohio REALTORS Residential Real Estate Purchase Contract





Representing Non-U.S. Citizens in Real Estate Transactions
Register using the links at the bottom of the page

April 13th, 2023
Free Ethics Training
FREE TRAINING
May 4, 2023
1 - 4 P.M.

District 4 In-District Meeting
Ohio REALTORS® Statewide Residential Purchase Contract
Ohio REALTORS will be conducting an In-District meeting in District #4 on
Monday, April 24
&
Tuesday,
April 25
, from
10 a.m. - noon
. The 2023 Ohio REALTORS officers will be reviewing several items, but the main purpose of the meeting will be to review the new Ohio REALTORS Statewide Residential Purchase Contract. This will be a
1.5 hour continuing education
class presented by Ohio REALTORS attorneys Stephen McCoy and Todd Book. There is
no cost
for this program.
District #4 is comprised of the following boards:
Athens County Board
, East Central Association, Greater Portsmouth Area Board, Guernsey-Muskingum Valley Association, Marietta Board and Scioto Valley REALTORS. All members within the district are invited to attend, but space is limited to the first 40 attendees.
All attendees must pre-register for the program.

The registration deadline is April 20.
If you have any questions, please contact:
Debbie Dillon at dillon@ohiorealtors.org - 614.225.6212
Deanna Wright at wright@ohiorealtors.org - 614.225.6229

Please click here to register for Monday, April 24 at the Southgate Hotel
Please click here to register for Tuesday, April 25 at Scioto Valley REALTORS
March 29th, 2023
Fair Housing Training
FREE ONLINE TRAINING
April 12, 2023
1 - 4 P.M.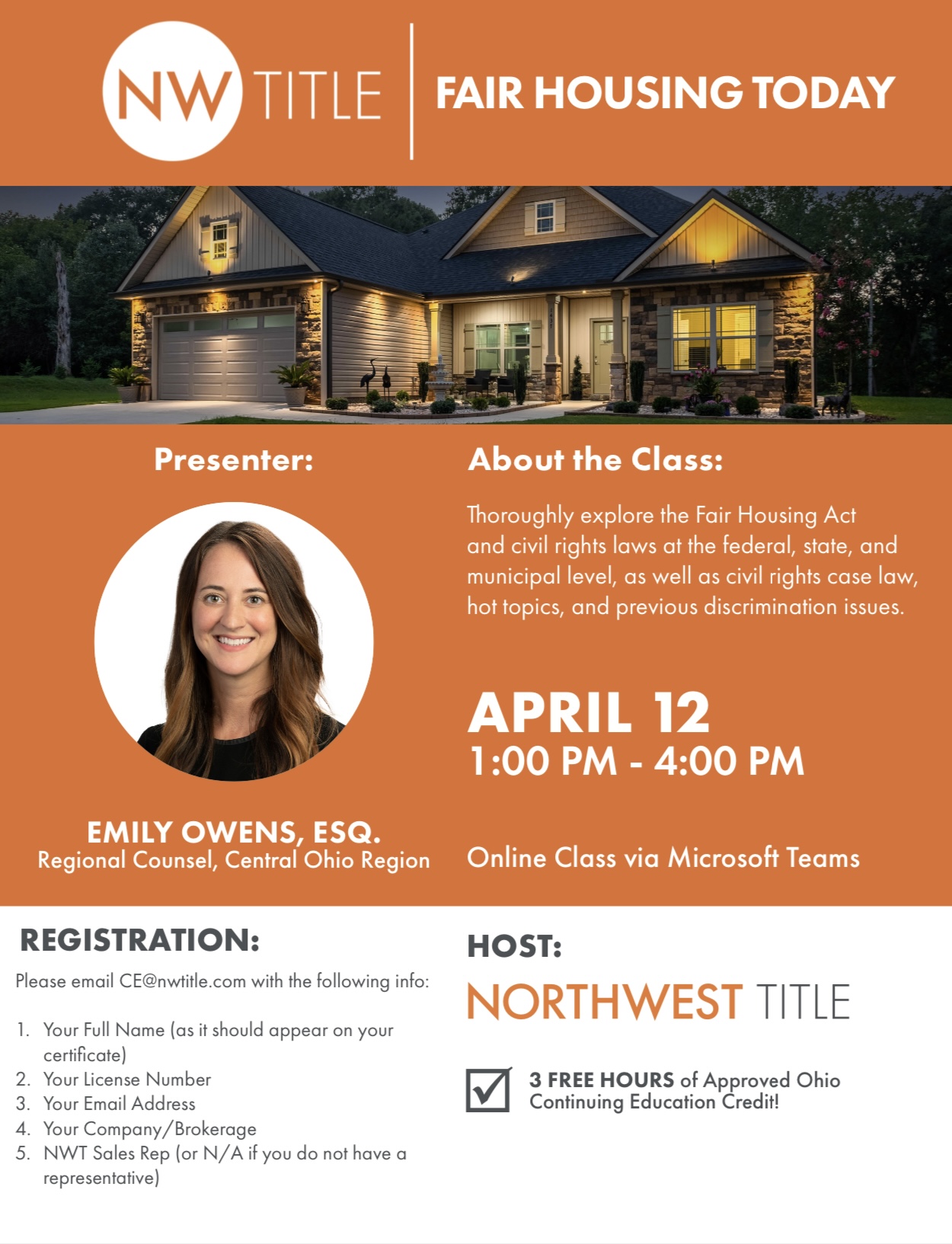 ACBoR is cohosting a FREE Training Opportunity


with The Ohio Housing Finance Agency
VIRTUAL TRAINING
Speaker Jonathan Duy

Topic:

Fair Housing Foundations (3 Hours of Civil Rights Credit)





November 4, 2022 - 11 A.M. - 2:15 P.M.





You can register for the virtual class at this link

https://attendee.gotowebinar.com/register/241433389108315660
October Membership Luncheon Meeting
Officer Election
and
FREE CE Basics of Estate Planning for the Real Estate Professional

October 28, 2022
11 a.m. - 2 p.m.

Guest Speaker:
Adriane
Mohlenkamp
(League of Women's Voters)
CE Topic:
Basics of Estate Planning for the Real Estate Professional
Troy
Howdyshell
, ESQ, NW Title
Sponsor:
OUCU
Financial
Food Options:

Cutler's Club - Ham, Turkey, Bacon, Swiss, Lettuce, Tomato, Onion, Mayonnaise on a Sour Dough Bread, Kettle Chips and Cole Slaw
Pesto Grilled Chicken - Grilled Chicken with Pesto, Fresh Mozzarella, Tomato on a Brioche Bun, Kettle Chips and Cole Slaw
Strawberry Salad - Mixed Greens, Sliced Strawberries, Blue Cheese, Candied Pecans, Avocados with a Strawberry
Vinaigrete
Please send your RSVP and meal choice to
athenscountyrealtors

@gmail.com
no later than October 23, 2022 if you plan to attend.